Machine guarding : How to protect your employees ?
Agence Le Backstore
There will never be enough safety measures to protect your personnel. Numerous methods including personal protective equipment are used to protect employees collectively and individually, but what about the equipment? The Machine guarding ? All types of equipment can be hazardous to employees, cause injuries and lead to sick leaves and a decrease in productivity.
The use of equipment causes risks such as:
Projections (debris, projectiles, sparks, drops…)
Emanations (fumes, heat…)
Accidental spills (liquids…)
Mechanical movements
Visibility (active and passive)
Fatigue
In addition to many processes and preventive measures already in place at the workplace, there are systems such as Machine Guarding from Rite-Hite that offer solutions to every potential danger.
Machine Guarding® products from Rite-Hite combined with safety barriers increase the safety level at the workplace. Since they offer a visible protection, the risk of accidents with loss of time is greatly reduced. Also, the physical and visual separation they create indicates without a doubt that a machine is being used.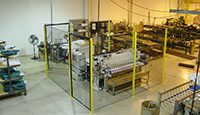 The various solutions offered by Machine Guarding from Rite-Hite include:
Configurable safety barrier systems preventing people from entering a danger zone.
Structures delimiting a work cell and protecting from dangers (burrs, projectiles, sparks…).
Automated barrier doors designed to protect the machines and the environment.
Manual or automatic curtains
Machine Guarding from Rite-Hite is a line of certified products designed to eliminate your risks and meet your needs in accordance with today's standards.